I'd like to thank: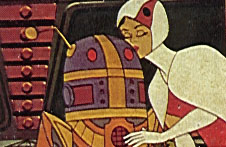 My brother, Serge, who taught me where and how to begin with HTML and who gave me a lot of technical tips. He sure is my personal helpdesk!
My father who taught me how to and let me use his scanner.
Mike for sending me his beautiful fanart.
Eric, for sending me the covers of the bootleg cassettes.
Peter Siegel who helped me to reduce the sound files.
The magazines AniWay and Strictly because they allowed me to reproduce (parts) of articles at the spotlight page.
Everyone who sent me merchandise adresses.
Everyone who sent me old or new inforamtion.
The omroepmuseum, one of the few organisations that answered my first letter with a request for information.
The NIAV (Nederlands Instituut voor Animatiefilm, litterally translated: Dutch Institute for Animation Movies), another organisation that started looking for information on Strijd der Planeten on my request and sent me a reply.
---
Strijd der Planeten ¦ Gatchaman ¦ Other versions ¦ Merchandise ¦ Fans ¦ FAQ ¦ Links